See below for our most updated list of Chronogram distribution points in the Hudson valley. Or stay at home and subscribe to have the magazine delivered to your front door.
If you're interested in Upstate House distribution points click here.
FREE DISTRIBUTION
Chronogram can be found for free at over 750 distribution locations on both sides of the Hudson River, throughout Greene, Columbia, Dutchess, Orange, Putnam, Ulster, and Westchester counties in New York, plus Berkshire, Massachusetts, and Litchfield, Connecticut. Click on the counties to see a complete list of distribution points in your area.
Please contact Brian Mahoney with any questions or concerns at brian.mahoney@chronogram.com.
DISTRIBUTION SERVICES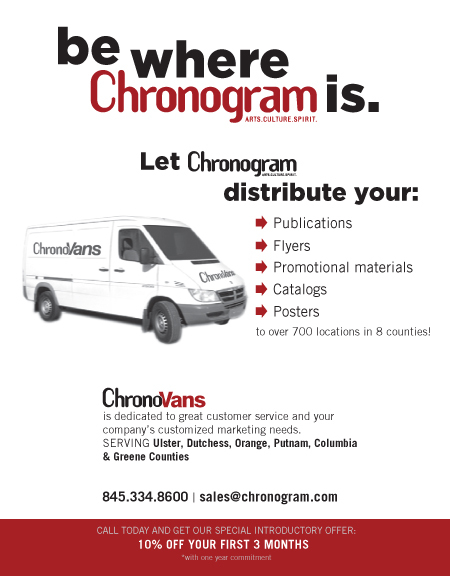 Let Chronogram distribute your:
Publications
Flyers
Promotional materials
Catalogs
Posters
To over 700 locations in 8 counties.
ChronoVans is dedicated to great customer service and you company's customized marketing needs.
Call 845.334.8600 or e-mail sales@chronogram.com today to get our special introductory offer of 10% off your first 3 months (with a one-year commitment)!